History of The United Church Lye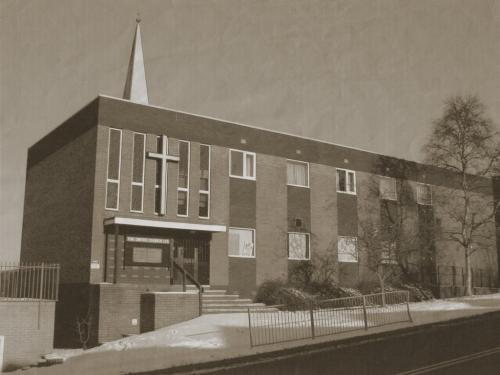 In 2019 The United Church Lye celebrated 40 years in its present building. This page will give you a brief insight into how that came about.
In 1964 there were three Methodist churches serving Lye, all situated close together, they were known as Mount Tabor, St John's and Ebenezer. In that same year Mount Tabor closed due to the costs of repairing and maintaining the buildings. It was hoped that their members would join one of the two remaining churches.
Four years later St John's came to the same decision, largely for the same reasons and again their members were encouraged to join the remaining church, Ebenezer.
The monies received from the sale of both church buildings were put in a fund to enable a new church to be built to serve the Lye area.
The story had a new twist when work was done on the old Sunday school building at Ebenezer, when the scaffolding was taken down the gable end of the church collapsed and the building was deemed to be beyond repair. So, undaunted, the Church held its services in the Community Centre at Lye from July 1972 to March 1979
Meanwhile in 1977 an approach was made by the United Reformed Church to see if there could be a local partnership between the Methodist Church and the United Reformed Church, after various meetings it was agreed that a Local Ecumenical Partnership would be set up.
And so on the 17th March 1979 the new church, situated in Upper High Street, a combined Methodist and United Reformed Church known as The United Church Lye opened for its first service and forty years later we are still going strong.